Unemployment is high and still rising. So now is the time to secure a qualification that can net you that long-term, dependable job. Perfectly fitting that category is something that's always in demand – safety.
OSHA is short for Occupational Safety and Health Administration, and their certification is a gold standard in health and safety. It opens many career doors – some of which may surprise you.
In this guide, we'll take you through some of the best opportunities when choosing a career. Read on to discover the best OSHA 10 jobs you can get with your certification.
1. Construction Worker
A construction worker plays a central role in any commercial development. This person is responsible for building and renovation work.
It's a varied role, and you could find yourself working on the foundations of a new building or adding some of the finishing details. You'll need specialist on-the-job training and knowledge of building work and safety.
It's also an active job with lots of time spent outdoors. Relevant certifications like the OSHA can help you secure a career in this field.
2. Safety Coordinator
All commercial developments need one eye on safety. That's where the role of a safety coordinator becomes necessary. This person is tasked with ensuring the environment and the people working within it are safe.
A safety coordinator's duties might include site audiences and team safety training. They'll also liaise between different groups on all safety-related tasks.
This person needs an in-depth understanding of health and safety, including hazard assessment. Thus, the OSHA certification is a valuable addition to your resume for this role.
3. Site Supervisor
As the title suggests, a site supervisor oversees on-site development activities. They arrange work schedules for their team and supervise anyone working on a commercial site, like a property extension.
Site supervisors also have other tasks like checking material deliveries and ensuring the area is safe. That latter responsibility means that an OHSA certification is necessary.
These supervisory roles often demand management skills and experience in another construction role. To be considered for this role, you must be organized, attentive to detail, and lead others well.
4. Electrician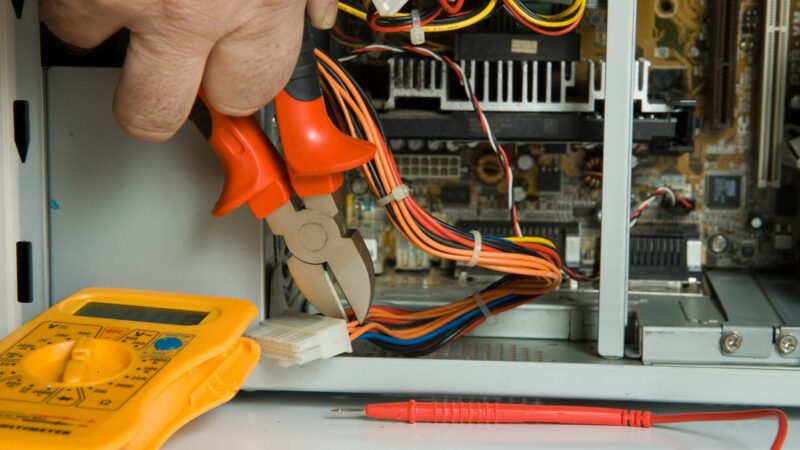 You'll need someone to handle the building electrics on any commercial development. After getting certified with OSHA, why not consider a role as an electrician?
Finding a job in electrics is straightforward as there is always a strong demand.
These operators oversee, repair, and install all electrical items in a building, so safety knowledge is essential given the electrocution risks. You'll need an organized approach and good attention to detail.
You must work well as part of a team and respond to instructions. More junior roles may offer on-the-job training, but you'll also need professional electrician qualifications.
5. General Laborer
Another entry-level role on our list is a general laborer. So, if you are determined to learn and have an OSHA certificate, this is your job choice.
You'll get involved in many tasks on property maintenance development, including operating machinery. That's one reason why safety knowledge and certification are vital.
It's a flexible role, and your daily tasks will give you lots of variety and a chance to work with others.
So you'll need excellent interpersonal skills. This role is a great chance to work behind the scenes on a commercial property.
6. Maintenance Technician
A maintenance technician will get involved in all the everyday tasks for managing a commercial property. You'll respond to reports of issues or repairs needed, so you must have excellent organizational skills.
You'll also need in-depth knowledge of a wide range of maintenance tasks in a building.
That includes an awareness of safety, as you'll be responsible for ensuring repairs and maintenance are done to safe standards. So, an OSHA is highly beneficial.
7. Facilities Coordinator
In any commercial setting, you need someone who can take charge of the facilities, like lighting, security, and power. You could consider a job as a facilities coordinator or facilities manager.
These roles oversee the daily operations of a building and the surrounding grounds. That could mean checking for repairs, scheduling maintenance, or handling requests from a management team.
This job also has a significant safety aspect, for which an OSHA will be a helpful asset.
8. Landscaping
You'll need someone to manage a commercial building with outside space. It could mean creating a green area of trees and grass or a grand entrance with fountains and shrubbery.
If you love the outdoors, commercial landscaping could be your best career path.
You may also have more extensive projects, like renovating a parking area, so this role sometimes involves large machines. Safe working practices are essential, so it's another role that requires an OSHA certificate.
9. HVAC Technician
Most commercial buildings will have some form of HVAC system. These are complex and need inspections and maintenance to keep them working efficiently.
An HVAC technician will have the responsibility for these tasks. They'll also get involved in upgrades or new installations.
As with any building maintenance, you'll need a good understanding of safety during your work and to ensure the safety of the HVAC systems. This role is excellent for those who love working with systems and machinery.
10. Safety Inspector
Our final job in our list of OSHA 10 careers to explore is a safety inspector. After all, a safe commercial building needs regular inspections.
A safety inspector will ensure the building has the relevant safety protocols and equipment to cover a range of risks, like fire, electric, and structural.
They'll need to understand the property structure and have an excellent level of experience with health and safety. An OSHA certificate is necessary for this role and is expected even in entry-level positions.
A first-rate attention to detail is a must for this role.
The Best OSHA 10 Jobs
We hope you found something to inspire you with our list of the best OSHA 10 jobs you can get with your certification.
There is something for everyone, but what all these careers have in common is that they'll remain in high demand – and protect you from a rocky job market.
At Property Manager Insider, we have lots of resources on our site for commercial property managers and facility owners. We also have job ads, which you can browse now.
OSHA 10 Jobs (FAQs)
1. Why is OSHA certification important in the current job market?
The job market is currently plagued by high unemployment rates and uncertainty, making it crucial for job seekers to possess credentials that enhance their employability. An OSHA certification sets you apart by signaling your commitment to safety—a fundamental requirement in various sectors, notably construction and facility management. For instance, roles like Safety Coordinator and Safety Inspector directly require an in-depth understanding of health and safety protocols, making OSHA certification almost a prerequisite.
2. What career opportunities open up with an OSHA 10 certification?
An OSHA 10 certification can unlock a diverse range of careers, from a Construction Worker to a Maintenance Technician. For example, as an Electrician, you'll be responsible for the building's electrical systems. Here, safety knowledge is critical, especially given the risks of electrocution. Similarly, Site Supervisors who arrange work schedules and manage on-site activities find the certification invaluable for ensuring a safe working environment.
3. How does OSHA certification benefit someone in a managerial or supervisory role?
For roles like Site Supervisor and Facilities Coordinator, managerial skills are as crucial as safety awareness. Ensuring that an area is safe for work or that maintenance tasks comply with safety standards becomes part of the managerial responsibility. An OSHA certification not only validates your competence in safety protocols but also adds credibility to your leadership, demonstrating that you can marry operational efficiency with safety compliance.
4. Can entry-level workers benefit from OSHA certification?
Absolutely, entry-level positions like General Laborer and more junior roles in electrical work can offer on-the-job training. However, having an OSHA certificate beforehand is an asset. It not only makes you a more appealing candidate but also equips you with foundational safety knowledge that you can apply immediately. This can be especially beneficial in roles that involve operating machinery or carrying out diverse property maintenance tasks.
5. How does OSHA certification enhance job security?
The roles that require or value OSHA certification, such as Safety Inspector or HVAC Technician, are generally in high demand. By acquiring skills and credentials in occupational safety, you align yourself with roles that focus on mandatory, non-discretionary activities for businesses. This makes you less susceptible to layoffs or unemployment, thus providing a safety net in a rocky job market.
Sign Up For BidSource
Sign up for BidSource today and connect instantly with top-tier property management firms operating on national, regional, and local scales. Elevate your contracting business by becoming the go-to choice for industry leaders across the nation. Don't miss this opportunity to be actively sought out by executives in property management who are making impactful decisions. Your next big contract could be just a click away. Transform your business trajectory with BidSource today.
Contractor BidSource Registration