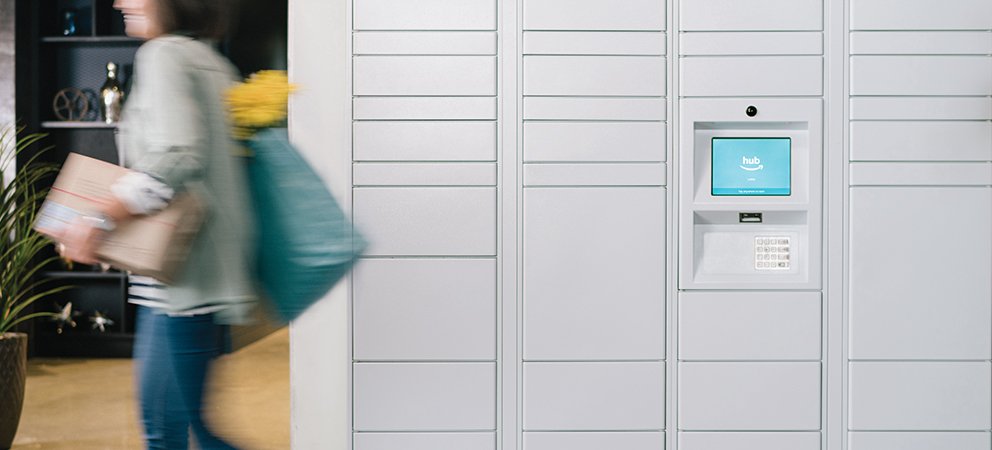 What Are Amazon Hubs?

Amazon Hubs are a package management system for apartment owners and managers. Hubs securely receive deliveries that residents pick up at their convenience using a unique code to open the locked compartments.
While Amazon Hubs and Amazon Lockers are similar on the surface, there are key differences. First and foremost, Hubs are only found in apartment buildings. Consequently, they are only available to residents. More recently, Amazon Hubs specifically designed for multifamily properties have been renamed Amazon Apartment Lockers.
Another key difference is that Amazon Hubs accept deliveries from any carrier or company. Amazon Hubs accept UPS packages from Walmart, while Amazon Lockers only accept Amazon packages.
How Much Do They Cost?

Surprisingly, Amazon Hubs are not incredibly expensive. While they are available in different sizes and configurations, the basic Hub contains 42 lockers and costs between $10,000 and $20,000 to install. There are no monthly fees for the Hub and Amazon provides free 24/7 customer support. Additionally, Amazon is currently offering to install Hubs with no payments due until 2019.
At the present time, most management companies are not charging residents a fee to use the Hubs. Conversely, management companies are marketing Hubs as a building amenity.
Benefits of Amazon Hubs

Due to the increase in e-commerce, package theft is a rising concern for apartment properties. This is especially true for garden style properties or building's that do not have a doorman or front desk. While Amazon Hubs have multiple benefits, significantly reducing package theft is the top benefit for managers and residents.
In addition to reducing package theft, here are additional benefits of Amazon Hubs:
99% of packages fit inside Hubs
Accept deliveries from all carriers and companies
Eliminate time dealing with package handling by staff
Access to packages 24/7/365 for residents
Reduces clutter in lobbies and mail rooms
While they are not inexpensive, Hubs are worth the investment for most properties. They are especially relevant to properties with large millennial resident populations, who make up 39% of Amazon Prime users.
Purchasing Amazon Hubs

Rather than waiting to play catch-up on the Amazon Hub trend, property managers interested in purchasing a system need to contact Amazon. While Amazon would like a Hub in every property, there are certain requirements to have one installed. Consequently, Amazon will provide a free consultation to determine if your property is the right fit for an Amazon Hub.
Find Contractors Using BidSource

Property managers can use BidSource to have the Property Manager Insider team locate a qualified commercial contractor for their next project or service call. Just fill out the form with your project details and a member of our team will be in touch.