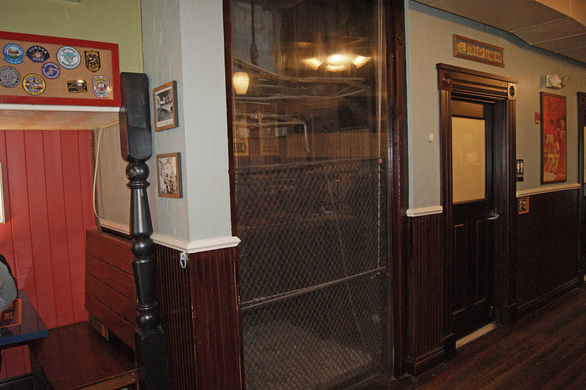 The Oldest Elevators In The United States
Potbelly Sandwich Shop Elevator – Washington D.C.

No, that is not a typo. The oldest known elevator in the United States is located in Washington D.C. inside a Potbelly Sandwich Shop. In fact, many historians believe it is the oldest elevator still in existence anywhere in the world. Pictured above, the open cage elevator is encased in plexi-glass and fairly discreet. While the elevator's internal gears and machinery are still intact, the elevator has been operable for many years.
About The Potbelly Elevator

For many years, people claimed the Potbelly Elevator was an Otis Elevator, possibly built before May 1854. This would have made it the second oldest elevator built by Otis, or anyone, of its kind. While this story still goes around, it has been debunked by historians.
The Potbelly Elevator was probably built in the 1870's or 1880's by Bates Hoist Machine in Baltimore. James Bates owned and operated an iron foundry that advertised "hoisting machines for warehouses" as early as the 1850's. In addition to other clues the elevator wasn't built by Otis, the hoist wheel inside the elevator bears the name Bates.
While the elevator is inside Potbelly's, it has been designated a National Historic Landmark and is actually owned by the Smithsonian. As a result, it can never be removed or destroyed by building owners or tenants. This designation cements the Potbelly Elevator atop the list of the oldest elevators in the United States, if not the world.


City Hall Elevator – New Bedford, MA

While the Potbelly Elevator is the oldest elevator in the United States, it is not operable. One of the oldest elevators in the United States, believed to be the oldest that still operates, is the City Hall Elevator in New Bedford, MA.
The City Hall Elevator was installed in 1906 and has been in continuous operation ever since. In fact, the elevator has become something of an attraction at the property. Attendants still operate the elevator and provide rides to both children and adults.
There is also a bit of controversy surrounding the City Hall Elevator. In recent years it has faced mechanical and electrical problems resulting in shut downs and even a total building evacuation. According to officials it will cost almost $450,000 to modernize the elevator, sparking a debate over its continued use.
Find Contractors Using BidSource
Property managers can use BidSource to have our team find a contractor ready to assist with your next project. Share your project details using the form below and our team will be in touch with a qualified contractor!