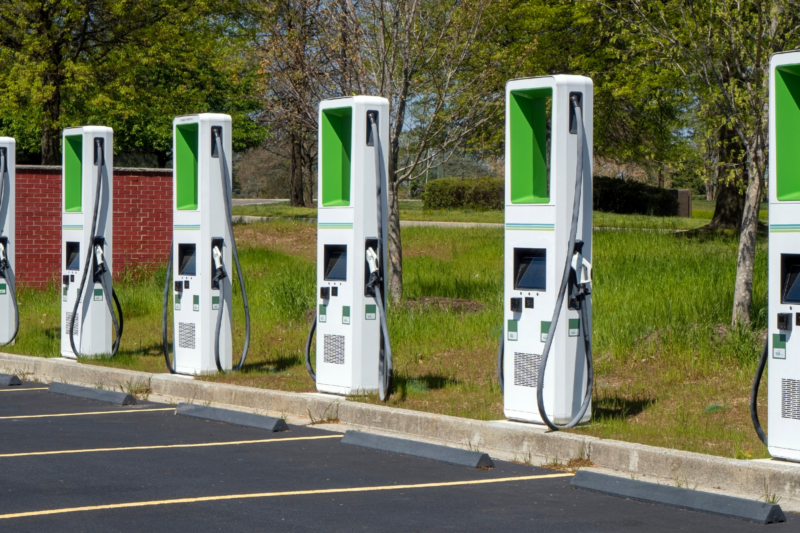 EV Charging Stations Needs By Property Type
With electric vehicle (EV) adoption growing in the United States, property managers must accept the reality they will need to install EV charging stations. While this is already happening at properties all around the country, the reality is an EV charging station shortage already exists. In states like California and New Jersey, where EV adoption rates are high, public charging stations are already outnumbered by more than 50 to 1.
When it comes to installing EV charging stations, needs certainly vary by property type. Location and EV adoption rates, also matter. Most importantly, properties must balance current and future needs. Unfortunately there is no ironclad rule on how many stations a certain type of property can install. Property Manager Insider built this guide to help property managers gauge how many EV charging stations they should install based on the type of property they manage.

EV Charging Station Infrastructure Costs
Infrastructure costs are a major reason installing the right number of EV charging stations at a property is so important. In many cases, installing powerful Level 2 and Level 3 DC fast charging stations require significant investments into a property or facility's electrical infrastructure. These costs can easily exceed $100,000 depending on a property's needs.
Even if a property does not plan to install 20 charging stations right away, preparing a property's electrical infrastructure for future needs is critically important. Failing to project EV charging needs can lead to unnecessary costs down the road. For example, if installing stations requires running power underneath the parking lot,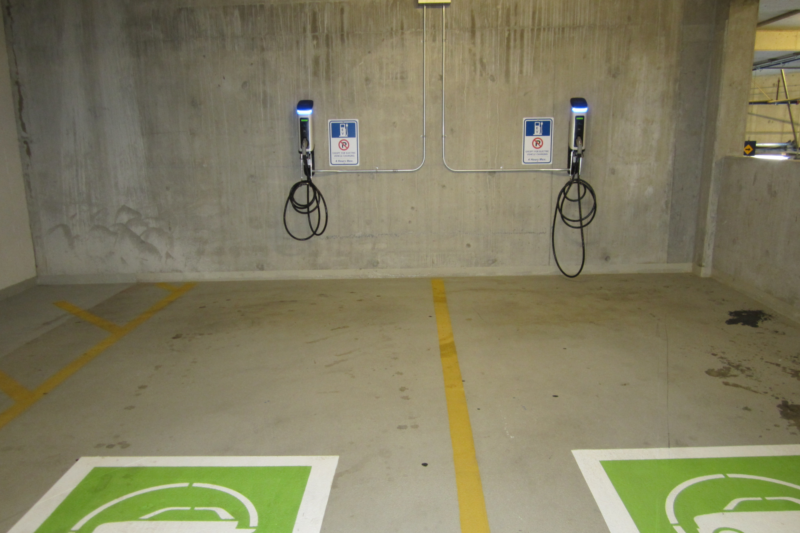 Apartment Complex EV Charging Station Needs
Knowing how many EV charging stations to install at an apartment complex can be tricky. This is especially true considering the majority of vehicles on the road will be electric within the next 15 years. For property's just starting out, using at least 2% of resident parking spaces can earn a point towards LEED certification. Apartment communities, unlike other types of commercial properties, can also install Level 1 chargers.
Using Level 1 stations is an excellent way to meet apartment complex EV charging station needs. This is because they are cost effective. Property's can typically install 10 or more Level 1 stations for the cost of installing 1 or 2 Level 2 stations. While they charge more slowly, residents use them overnight, allowing vehicles to add enough mileage for the next day.
One option for multi-family property managers is configuring electrical hookups, but not purchasing chargers. Residents who own electric vehicles must purchase their own charger. This significantly reduces costs because managers do not have to buy the charging stations themselves. In some cases, property managers can even meter the spaces and charge tenants for the electricity they consume charging their EV.
Shopping Center EV Charging Station Needs
Shopping centers are one of the few properties that absolutely require Level 2 or Level 3 EV charging stations. This is because vehicles do not typically charge for long periods of time at shopping centers. When an EV owner hits the grocery store, they are looking for Level 2 or 3 charging stations that can quickly add significant range. In fact, EV owners will seek out retail centers that have installed Level 2 or 3 charging stations. While these stations are significantly more expensive than Level 1 stations, they are also paid charging stations. Over time, EV charging station revenue can help shopping centers recoup their investment.
Even with the proven benefits of installing EV charging stations, pinning down an exact number is still difficult, especially since there are so many different types of shopping centers. For supercenters, starting with 3 to 6 dual port Level 3 charging stations should meet short and intermediate demand. A supercenter in California, where EV adoption is high, might start with 6 stations, while a shopping center in Mississippi, where adoption is low, might start with 3 stations. Regardless of how many stations are installed today, given the significant capital expenditure required for Level 3 stations, property's should upgrade infrastructure to accommodate future stations.
Get An EV Charging Station Quote
Office Park EV Charging Stations
Office parks and corporate campuses are another type of property that will need to provide significant quantities of EV charging stations in the future. Employees, tenants, and guests will all want the option to charge their vehicles while they work. Office buildings, similar to multifamily properties, can install Level 1 stations that are more affordable and will also provide enough charge during a standard work day to cover the commute home. They can also install a few paid Level 2 or 3 stations that offer faster charging speeds.
Property size and location can help determine office property EV charging station needs. Bigger office properties in suburban areas or campus settings with large numbers of commuters will need to offer more stations than office towers in urban centers. While there is no exact formula, an office property manager with 100 parking spaces could start by installing 4 to 10 stations, while upgrading infrastructure to accommodate up to 20 charging stations. Office property managers in California, which boasts the highest EV ownership in the country, will need to start with more stations than states with lower EV adoption rates.
Condominium EV Charging Station Needs
In general, EV charging station needs at condominiums and HOA communities with assigned parking spaces are among the most straight forward of all properties. This is because unit owners are typically responsible for installing their own EV charging stations. Where this becomes complicated, however, is when properties need major electrical infrastructure upgrades to accommodate stations.
When major electrical upgrades are necessary to install EV charging stations, such as upgrading panels or running power to new areas of a parking garage, things become more challenging. Should one unit owner be responsible for $50,000 in electrical upgrades to accommodate an EV charging station for their person vehicle? Non-EV owners might argue yes, because they don't want to face an assessment for upgrades that do not directly benefit them.
For community association managers, this is a topic that can mainly be debated and decided by the HOA board. If the board asks for advice, consider that preparing any property for future EV charging station needs will only improve unit value and resale potential for all owners.
Industrial Park EV Charging Station Needs
EV charging station needs at industrial parks and properties are highly variable. While consumer station needs, meaning EV owners who would pay to use chargers while visiting, are extremely low, this does not mean industrial property managers don't need to both with EV charging stations. Depending on the type of industrial property, they may need more EV chargers than any other type of property.
Industrial properties, specifically single tenant properties in the logistics space, could potentially need enough chargers for entire fleets of electrified service and delivery vehicles. While this scenario might seem far fetched Amazon CEO Andy Jassy has already stated they plan to have 100,000 electric delivery vehicles on the road by 2030. Assuming other logistics and trucking companies follow suit, industrial properties will need the electrical infrastructure to potentially support hundreds of commercial EV charging stations.
EV Charging Station Building Codes
Before any commercial EV charging station project, property managers should review local building codes. Many cities, states, and local governments have passed legislation outlining commercial EV charging station installation requirements.
For example, Washington D.C. passed legislation requiring all permits for major improvements at commercial properties include upgrading infrastructure to prepare for increased EV charging station needs. Specifically, 20% of off-street parking spots at properties with more than 3 spaces, must be able to accommodate stations in the future.
While this code does not specifically require stations are installed, it does require infrastructure upgrades. Again, property managers must understand local code requirements before moving forward with a commercial EV charging station installation project.
Find EV Charging Station Installers
Free EV Charging Station Installation Quote
Need a quote to install an EV charging station at your property? The
BidSource
team at Property Manager Insider will find a qualified local contractor to assist with your project! Just tell us about your project using the form below and our team will match you with a local company ready to provide a free quote.
EV Charging Station Lead Form