Apartment Resident Event Ideas June 2023
Did you know that June is typically the month with the most daylight hours? While it's not officially summer until mid-June, you can bet that your residents are eager to enjoy the fantastic weather! As a commercial property owner with a reputation to uphold, you want to ensure they have fun and interesting community activities. That way, they'll be happy, and will want to stay in your units for longer. If you need some inspiration, then read on. Here are a few resident event ideas for June 2023 that'll have your residents excited!
End of School Celebration: Around the country, June means the end of school year and the official start of summer break for students. Multi-family property managers can throw a party to celebrate the end of the school year. Consider a bulletin board or other way to highlight and recognize high school graduates.
Mark the Summer Solstice: Many people mistakenly think that summer starts in early June. But the truth is, the first official day of summer doesn't happen until the summer solstice, which is on June 21st. This is the longest day of the year, so help your residents make the most of it! Traditionally, people marked the summer solstice with bonfires, singing, and dancing. You can easily do this in your apartments' common areas, complete with lively music. You can also provide your residents with either real flowers or craft supplies so they can make flower crowns. They can then wear these on their heads while celebrating.
Celebrate Dinosaur Day: Falling on June 1st, this holiday appeals to people young and old, as there's a common fascination with these extinct creatures. Encourage your residents to celebrate with you by sending out dinosaur egg-shaped invitations. In the common area, set out dinosaur-shaped cookies, and show dinosaur movies, such as the Jurassic Park series. Other things to consider include themed stickers, balloons, and even costumes! If there are children present, you can also put together a small archeological dig site by converting a section of the sandbox.
Honor Father's Day: Father's Day falls on June 18th this year, and it's one of the most important holidays. Whether your residents have biological or adopted fathers, these men have been key people in their lives, and it's your duty to help honor them. Give them a good start to their day by putting on a delicious brunch that they can enjoy with their loved ones. If the weather's nice, you can put tables and chairs outside so your residents can dine al fresco. For the families with young children, you can set up various tables with arts and crafts. That way, the little ones can create cards and pieces of art that their fathers can treasure forever. Having aesthetic photobooths and stations can provide fantastic photo opportunities for your residents too.
Observe Juneteenth: 2023 marks its second official celebration, but this holiday's been around since the mid-1800s, so you have lots of options to do Juneteenth justice. This day commemorates the emancipation of African-American slaves, which many people may not know a lot about. It can be fun and informative to host a "lunch and learn," where you provide tasty meals for your residents and have important community members speak about Juneteenth and related topics. If possible, support Black-owned restaurants and businesses for this event. You can also screen Juneteenth videos, and provide comfortable seating, popcorn, and drinks for your residents.
Hold Barbecues: There's no better time to have barbecues than in June! The weather's heating up, but not overly so, meaning your residents can spend hours outside eating and mingling with little issues. People will never turn down food, so this is excellent for community building. Gather up some chairs and tables, set up a sound system, and appoint someone as the grill master. Your residents are guaranteed to have a great time!
Throw Pool Parties: When the temperature starts soaring, then it's time to throw pool parties. Even if your apartments have top-of-the-line air conditioning, nothing beats cooling down in a cold pool. You can combine this resident event idea with a barbecue so people can swim and play pool games, then come back up for food when they need to refuel. If you have prospective residents, they'll definitely want to live here when they see how much fun people are having.
June's "National Day" Celebrations
Each month we highlight different "National Days" that make for great apartment resident events and activities. These come from the National Day Calendar and are a great reason to have an event or activity for your apartment residents!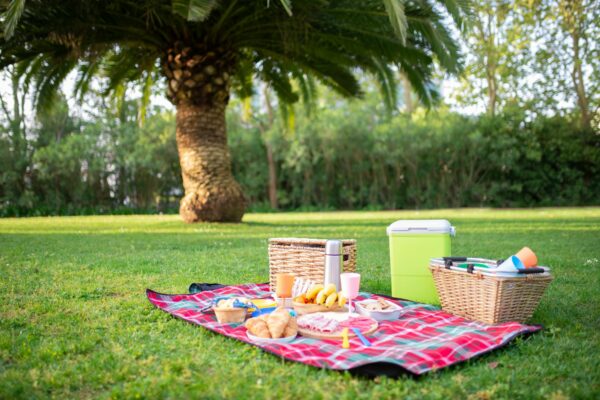 National Donut Day on June 2nd: This is another super easy apartment resident event for June 2023. Host a donut party, or simply a donut giveaway, on National Donut Day. This can be as easy as hosting a "free donuts" event in the morning where residents can grab a donut and cup of coffee on their way out the door.
International Picnic Day on June 18th: Set up picnic blankets to celebrate International Picnic Day! Have all your residents to your apartment's courtyard to picnic with neighbors. Have food trucks or a BBQ, so everyone has an option for food.
International Yoga Day on June 21st: Host a free yoga class to celebrate International Yoga Day on June 21st. This is a great way to showoff your apartment community's fitness center. It is also a reasonably easy and affordable event that only requires space to host the class and paying a local instructor to lead it.
National Camera Day on June 29th: With the rise of smart phones, everyone has a camera. Recognize national camera day by having a funny photo or selfie competition. Put a bulleting board in a common area and let residents pin up their best pictures. Have an anonymous vote to pick the winner. A Polaroid Go Instant Camera is makes a great prize for this type of competition.
Find Contractors Using BidSource
Property managers can use BidSource to have the Property Manager Insider team locate a qualified commercial contractor for their next project or service call. Just fill out the form with your project details, and a member of our team will be in touch.